THE TBM 900 SERIES
WHEN THE MISSION NEEDS TO BE
FAST, HIGH AND SPECIAL:
READY, AFFORDABLE AND RELIABLE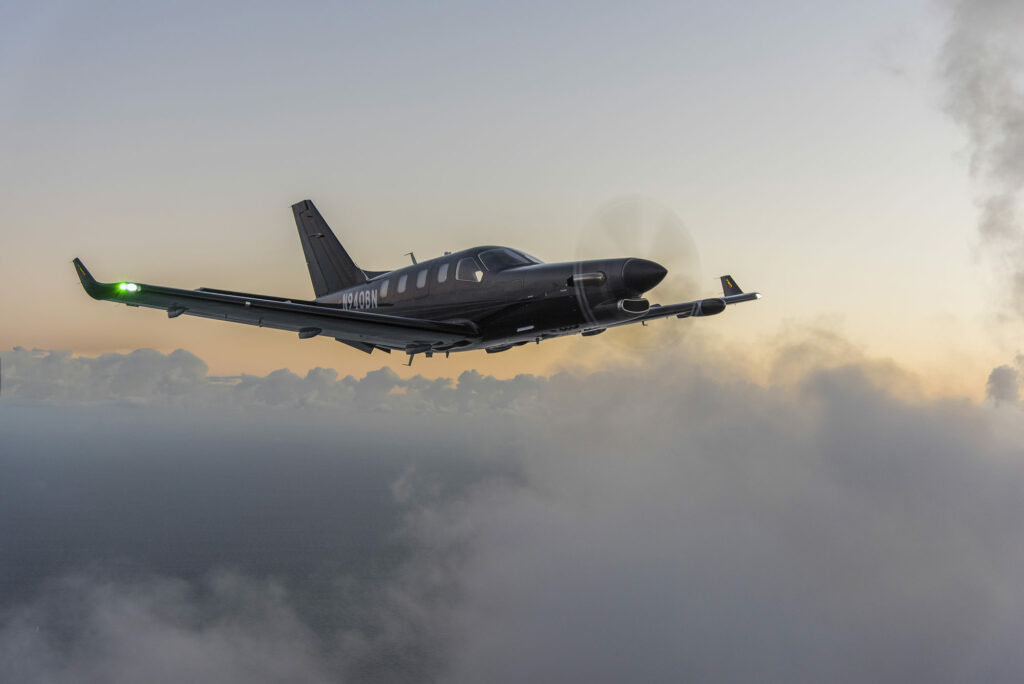 TBM: THE VERY FAST TURBOPROP AIRCRAFT FOR SPECIAL MISSIONS
In the special mission role, the TBM 900-series offers high flight speeds and excellent range for even the most sensitive assignments. It combines rapid travel times to the mission zone with reduced external noise for discretion and short takeoff and landing distances – enabling operations from 2,455-ft. (750-meter) runways.
Equipped with Garmin's G3000 integrated flight deck, its modern human-machine interface includes a single-lever integrated autothrottle that simplifies the engine power control and monitoring. The TBM 940's e-copilot® functionality eases the flight crew's workload with the angle of attack (AOA) indicator, ESP/USP systems (Enhanced Safety Protection/Under Speed Protection), and an emergency descent mode (EDM).
With the integration of underwing external hardpoints, the TBM has been operated as a highly stable, rapid video platform, utilizing a 110-lb. (50 kg.) ultra-high-definition camera while retaining its handling qualities and flight envelope performance in this special mission configuration.
The TBM 900 series also is highly capable in performing intelligence, surveillance and reconnaissance (ISR) duties with a multi-sensor turret; as a platform for observations with a Synthetic Aperture Radar/Ground Moving Target Indicator radar (SAR/GMTI); as well as a communication interception system with secure transmission means.
Power is provided by Pratt & Whitney Canada's PT6A-66D powerplant, recognized as one of the most reliable aircraft engines ever built with unmatched performance, simple design, efficiency, low cost of operation and easy maintenance.
AERIAL FILMING
AIRBORNE FILMS
"Creating high quality, cinematic content is the essence of what we do. The TBM assisted us in performing our missions for clients around the world – including visual storytelling, and innovative communications."
Eric Magnan
Airborne Films Director
Airborne Films is a Paris, France-based video production company with world-renowned experience in aerial cinematography. In partnership with Daher, it has developed a superior aerial cinematography system to shoot 8K video at high flight speeds. In this role, the TBM has been equipped with a six-axis Shotover F1 gyro-stabilized platform under the wing.
Operated with a RED 8K camera and an Angenieux 25-250mm zoom, the Shotover F1 platform also can accommodate multiple cameras and lens options.
GIMBAL FIELD OF VIEW
Pan: 360-degree continuous
Tilt: +45 to -140 degrees
Roll: +/-85 degrees (steerable or auto-horizon)
STABILIZATION
Max slew rate: 100 deg./sec.
Six-axis with no gimbal lock
High performance non-ITAR sensors
Distributed multi-processor closed loop servo control system
Proprietary gimbal control algorithms
TRANSPORTATION OF MILITARY AUTHORITIES
DETALAT
"Servir tout temps" (In service, anytime) is the motto of DETALAT, the French Army Aviation squadron whose mission is to transport military command authorities from headquarters to operational bases all over Europe, Africa and the Middle East. This squadron operates a fleet of five earlier-production versions of the TBM, all of which were upgraded by Daher with Garmin's G1000 all-glass avionics suite.
The squadron logs an average of 4,000 flight hours per year, of which 90 percent are mission deployments, while the remainder are for training and maintenance flights. As dispatch reliability is a key requirement, Daher supports the squadron under a full operational support contract. These TBMs have been among the first aircraft operated by the French armed forces that are maintained outside the military organizational structure under a "power by the hour-type" maintenance contract.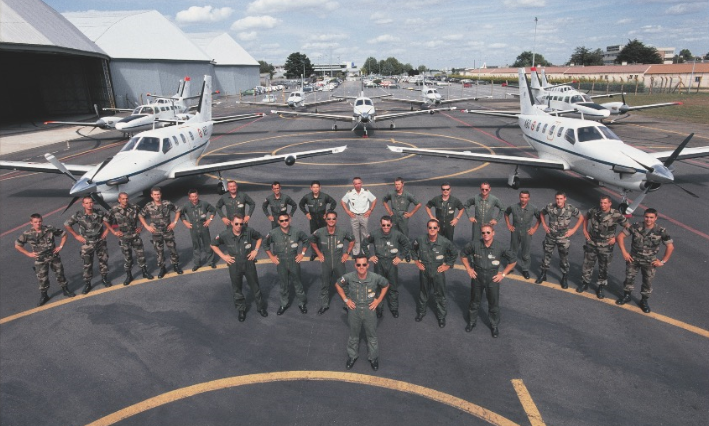 LIAISON DUTIES
FRENCH AIR FORCE

The French Air Force is the longest running TBM military operator, with deliveries beginning in 1992 to replace MS 760 "Paris" four-seat jets. Today, the French Air Force operates TBMs to perform liaison duties between its operational bases in France and throughout Europe. Three squadrons utilize a total fleet of 15 TBMs that have been upgraded with the G1000 integrated flight deck.
The fleet also serves training purposes, contributing to maintaining the flying skills of air force senior pilot officers.
Average activity for this fleet is approximately 4,000 flight hours annually, with maintenance provided by Daher's TBM Care Team under a full operational support contract.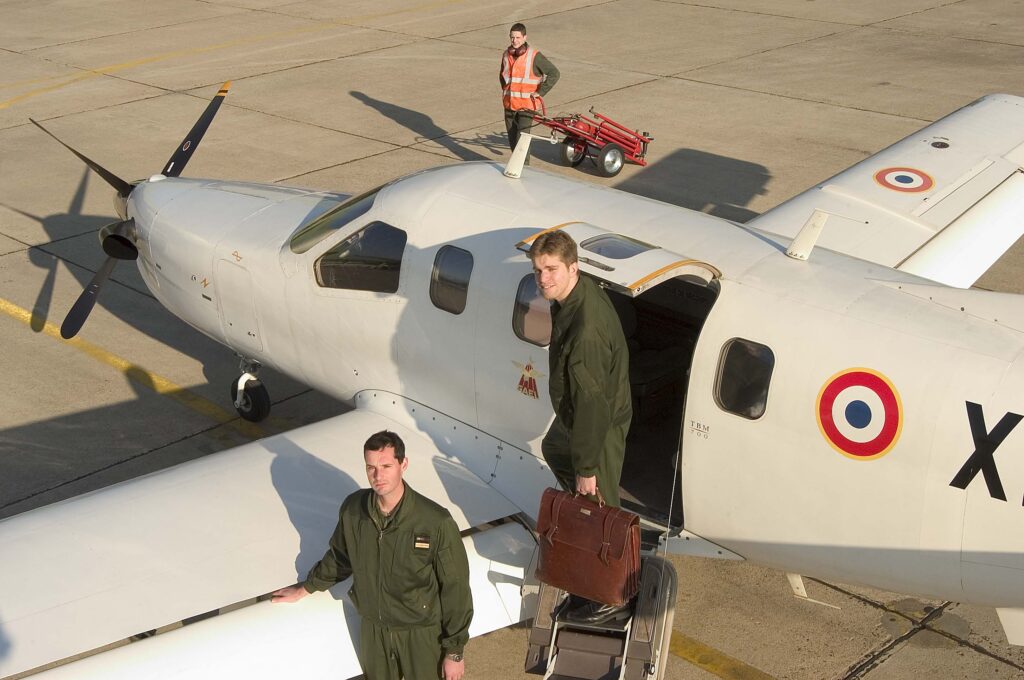 FLIGHT TESTING SUPPORT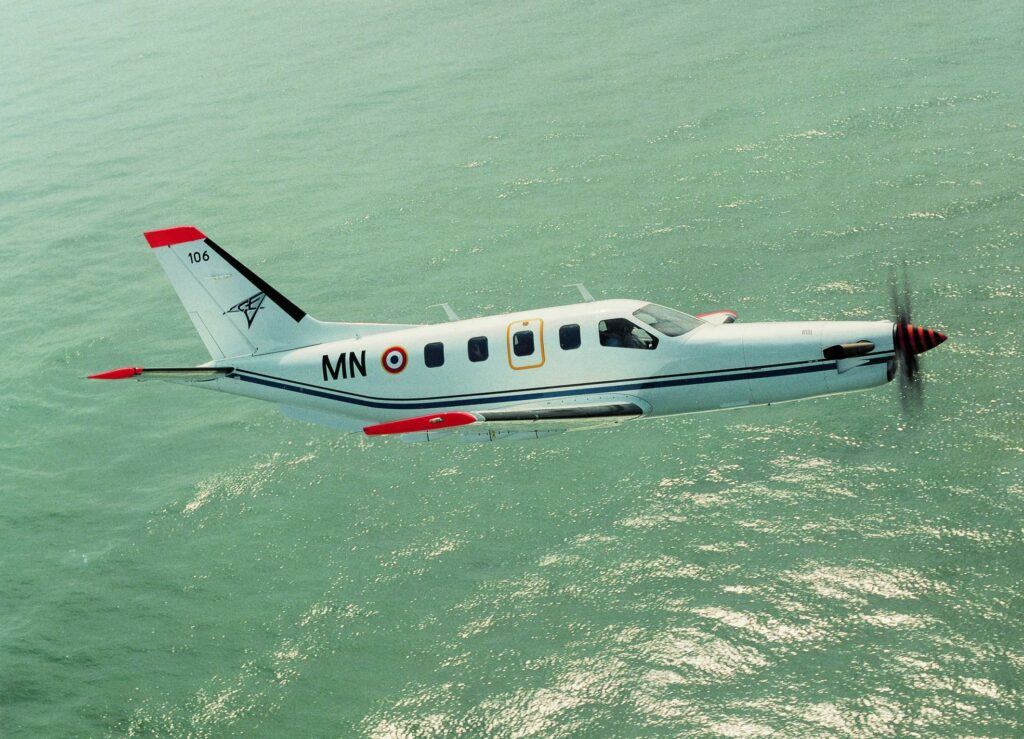 French DGA defense procurement agency
France is among the world's few countries to have developed a national flight-testing organization. This organization (operated under the DGA defense procurement agency's responsibility) is constantly adapting its means to the new generation of sophisticated aircraft that require a more networked approach.
The French flight test organization operates a variety of aircraft from two facilities in France, with regular exchanges performed with other test centers across Europe. Since 1992, its fleet includes TBMs, which are used for duties that include flight testing and safety support. The TBMs also serve as chase airplanes, as well as in liaison flights for operations away from the primary test center locations. To modernize the fleet, France's Ministry of Defense plans to acquire four new-production TBM 940s, which will be modified by Daher to incorporate equipment that meets a variety of flight test and training needs – providing the ability to carry a wide variety of payloads under each wing.
TBM SPECIFICATIONS