Special mission
aircraft
solutions
from Daher

The Kodiak 100
and TBM 940
TWO AIRCRAFT PLATFORMS TAILORED FOR THE MISSION
DAHER'S AIRCRAFT MANUFACTURING CAPABILITIES ARE BACKED BY THE COMPANY'S INDUSTRY-LEADING LOGISTICS, SERVICES AND SUPPORT FOR THE SPECIAL MISSION OPERATOR COMMUNITY
ABOUT DAHER

THE TRUSTED PARTNER FOR EVERY SPECIAL MISSION
Daher is unique in bringing the sustained production of its Kodiak and TBM aircraft families together with industry-leading capabilities for airframe upgrades, logistics support and supply chain services.
Proven capabilities cover the full spectrum: from design and engineering; integration and retrofit of systems, avionics and sensors; flight test and certification to maintenance, overhaul, full operational support, logistics, training and fleet management.
This enables Daher to design, develop and deliver innovative, comprehensive solutions that meet the demanding requirements of special mission operators – wherever they are in the world.
BECAUSE EVERY MISSION IS SPECIAL
LEARN MORE AT DAHER.COM
Daher's best-in-class aircraft are
versatile, proven and adaptable
Kodiak: The rugged, multi-mission turboprop-powered workhorse. Modern, reconfigurable, tailored for austere operations.
TBM: The fastest aircraft in its turboprop category. Capable, affordable, efficient and state-of-the-art.
Contact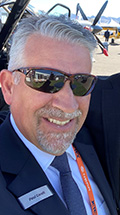 Paul Carelli (Captain, U.S. Navy retired)
Kodiak Special Missions Team
p.carelli@daher.com
866.455.6224
Paul Carelli is a native of Palo Cedro, California. He graduated from San Francisco State University with a Bachelor of Science degree in Business and was commissioned with distinction from the University of California Berkeley NROTC in 1992 and was designated a naval aviator in March 1995. Carelli joined Kodiak Aircraft in November 2017 serving as the Director of Manufacturing and is currently the Director of Kodiak Aircraft Flight Operations, and Multi Mission Business development.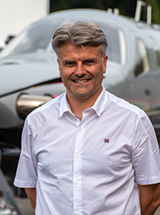 Laurent Mesmin was born in Reims, France. He graduated from Besancon Engineering School (ENSMM) as a Mechanical Engineer followed by a degree in Business Administration from Reims Business School (Neoma). He developed an extensive experience in the field of promotion, sales, program management and aftersales services of GA special mission aircraft from 1998 to 2014 as Commercial Director of Reims Aviation Industries and since 2017 as Multi Mission Aircraft Business Developer of Daher Aerospace.